In this article, we will outline everything you need to know to find the perfect pair of hockey skates.
Sports Zone Canada has been a part of the Kitchener – Waterloo community for over 16 years. We are committed to providing sporting enthusiasts with the highest quality new and used skates at unbeatable prices - contact us today to learn more about our skates!
Now, instead of skating around the topic, let's dig right in and discuss what you need to know to find the perfect hockey skates, including fit, style, level of play, and budget.
Everything You Need To Know To Find The Perfect Hockey Skates
Fit Matters
Finding the right fit for your skates is imperative. Not only will a poor-fitting skate affect your performance, but it will also cause discomfort, blisters, and even injury.
Skate fit depends on your age, level of play, position and overall preference. Forwards tend to prefer a lighter, low-profile skate built for maximum speed and agility, while defensemen look for a sturdy and more balanced skate that offers greater protection while blocking shots.
Different skate brands will provide different fits for your feet. Here's a look at the fits offered by the two leading skate manufacturers.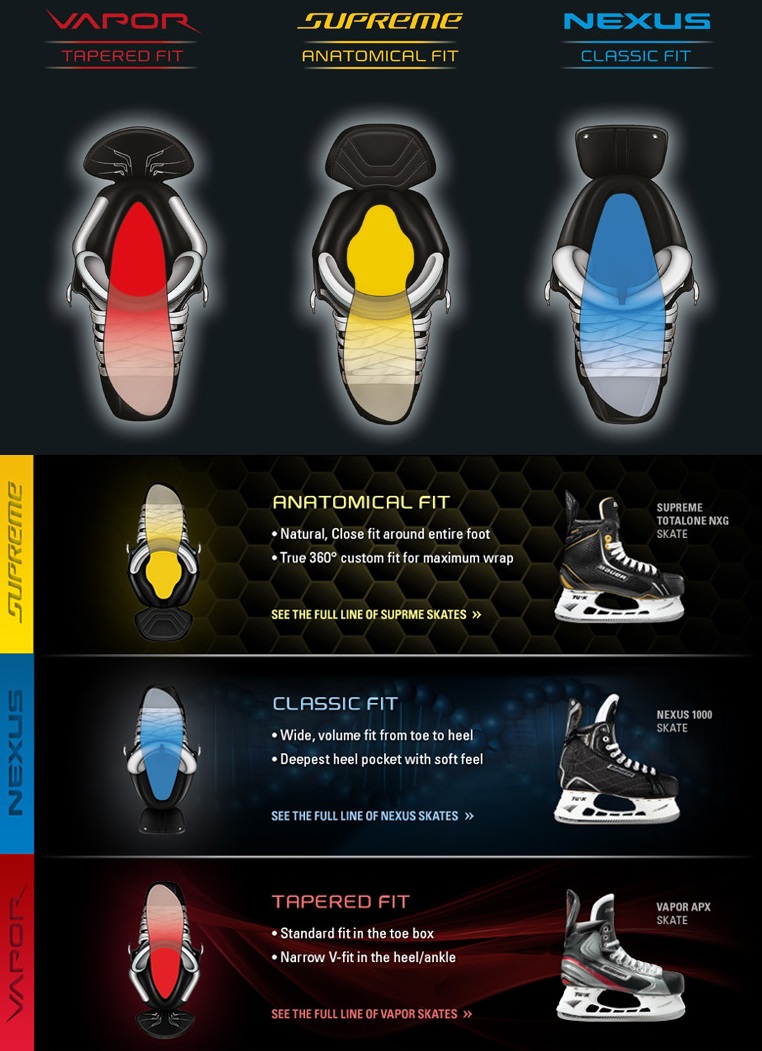 Bauer skate fit profiles (via https://honesthockey.com/hockey-gear-reviews-2019/skates/best-senior/bauer-supreme-vapor-nexus/)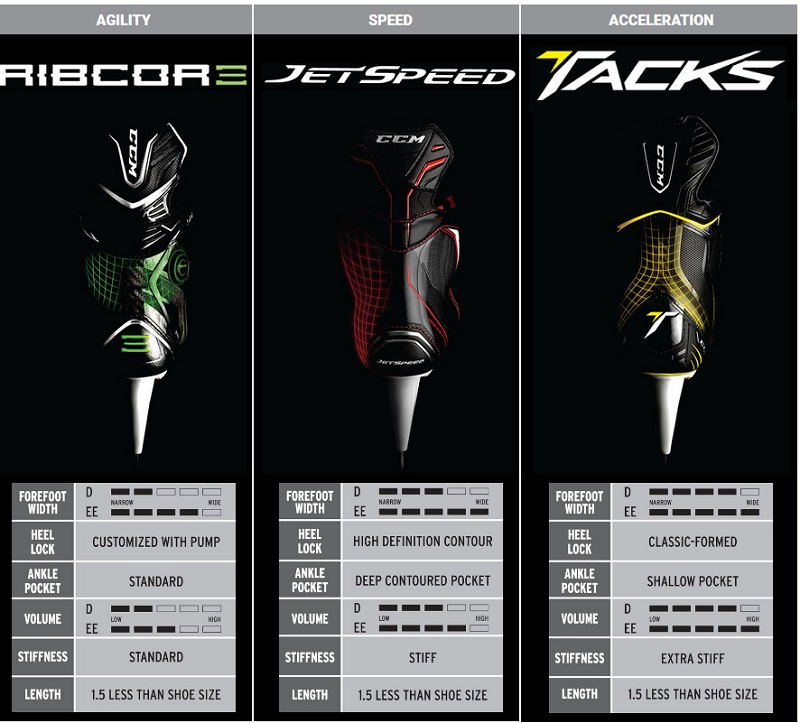 CCM Skate Fit Profiles (via http://microsites.ccmhockey.com/microsites/skate-fit-guide/en/)

Consider Your Style of Play
Additionally, and regardless of position, some players are more aggressive, meaning they're always on their toes ready to go and pounce on the puck. Other players are more reserved, stick to a defensive game, read the play and stay on the defensive side of the puck.
Skates designed with a forward pitch at the ankles that allows you to get a deeper knee bend will help put you in a more aggressive stance. Some skates also have a pitch in the blade holder that will put the player more on their toes.
On the other hand, you can also buy skates with a more traditional fit. These are better for the reserved players and should be selected depending on your style of play.
Get A Custom Fit With Bauer 3D Skate Lab
Sports Zone is proud to feature a Bauer 3D skate lab. This tool uses scientific algorithms to determine the perfect skate for you.
After scanning your foot, the integrated measurement system will analyze your foot and provide key information on the length, width, and depth of your foot profile.
It will then recommend the best skate for optimal comfort and performance.
Visit Sports Zone today to give it a try!
Match Budget With Level of Play
Hockey skates come in a number of price ranges, from basic entry-level boots to high-end skates worn by the pros. It should come as no surprise that the more high-tech the skate, the more you'll spend.
Let's take a look at what you can expect to pay for the perfect hockey skates based on your budget and needs.
Entry Level Skates ($49.99 - $79.99) - For those on a tight budget who only plan to skate with the family a few times per year.
Upper Entry Level Skates ($69.99 - $149.99) - Ideal for beginners who want an improved entry-level skate, or for players on a budget who don't need any high-end features.
Lower Mid Range Skates ($149.99 - $199.99) - Perfect for players in lower divisions who want a durable skate with some higher-end features.
Mid Range Skates ($209.99 - $329.99) - Great for both beginners and experienced players. Durable and affordable. This is the lowest price point where skates can be customized to provide a more comfortable fit right out of the box.
Upper Mid Range Skates ($199.99 - $399.99) - For adult league players who want a comfortable and supportive skate.
Third Tier Skates ($399.99 - $549.99) - These skates don't have all the features of a top-of-the-line skate, but they're well suited to keep any intermediate to advanced-level player happy in terms of performance and price.
Second Tier Skates ($449.99 - $749.99) - Perfect for players who want a high-performance skate without having to pay the highest price, they will last many years with proper care.
Top Of The Line Skates ($599.99 - $999.99+) - High price tag but worth the investment for the most serious of hockey players.
Sports Zone categorizes our skates as Youth, Junior and Senior. Each offers different price ranges, and our in-store experts can help get you the best bang for your buck. Once you've purchased a new pair, be sure to stick around to get your blades expertly sharpened and contoured.
Get the right pair of hockey skates for your budget, style, and level of play
Consider Used Skates
Used hockey skates are a great option for beginner to intermediate level players, especially for young people bound to grow out of them sooner than later!
There are several benefits to buying used skates, including the following:
Savings - As outlined above, a brand new pair of skates can dent your wallet pretty quickly. Buying used allows you to save some valuable funds and use them for other pieces of equipment that should be bought new - helmets, for example.
Comfort - The thing with new skates is they take some time to break-in, especially if they're not customized to fit your feet. By definition, used skates have been around the rink several times, and should offer a more comfortable fit early on.
Variety - Price points may limit your ability to purchase a high-end skate, but used options allow you to get your feet into brands and types that would otherwise be outside your budget.
Here's a helpful video outlining five things all hockey players should know before buying a new pair of skates.
Follow Hockey Tutorial on YouTube
Sports Zone Will Help You Find The Perfect Hockey Skates
Like the major chain sporting retailers, we carry all the major hockey skate brands you need to play your best. Sports Zone also has a trade-in program. Bring in your used equipment and get credit towards your next purchase!
The Sports Zone difference is our personalized level of service. We pledge to offer the customer a personal, small-store service experience but with all the sports equipment and apparel athletes need to excel at their sport.
As Waterloo's largest independent sports retailer, we've provided thousands of athletes with the high-performance sports gear that helped them excel in their chosen sport - and we can do the same for you.
Whether you need skate sharpening, hockey equipment, skates, hockey sticks, goalie equipment, figure skates, or other sporting equipment, Sports Zone has what you need at the best price, guaranteed!
Visit us today to get the best sports equipment you need to compete and take advantage of our in-store services. Or, you can order online if you're outside the Kitchener-Waterloo area.
What our customers are saying:
"Incredible experience buying skates. Got exactly what I needed for a fantastic price. Thank you very much." (Mark Paisley)